Monday blues, as usual. Perhaps this is a form of modern mental disease that is affecting majority of the working population today, including myself. :p

And what does one do to vent the frustrations and stress that have accumulated over 5 working days? For most of us, we choose to eat! Haha!

And it must be something good. Price is secondary, at least to me. It's my reward. Don't I deserve nice food with my loved one in a cozy and relaxed ambience after days of hair pulling, eyes straining and brain twisting? Sure I do! ;)

And that's how constantly stressed out people get fat in the long run.

All pork dishes at Sanbanto, SS2.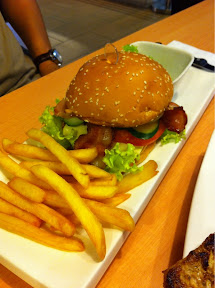 - Posted from my iPhone